Braces for Adults
It's easy to assume that braces are reserved for teenagers only, but braces for adults are a reality in modern culture. Orthodontics are designed to seamlessly fit into your life without interrupting your personal or professional obligations. In fact, there are several options that can align your teeth as an adult and they're all available from Dr. Mariana Orthodontics in Monroe, WA.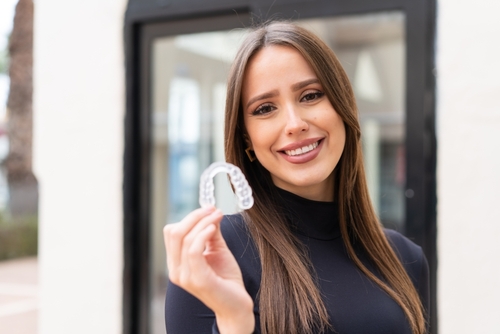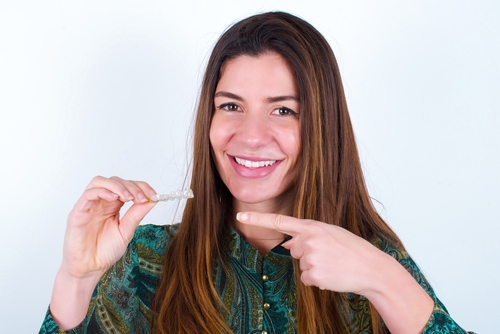 Types of Braces for Adults
There are adults who never got braces as a teenager but wish they had straight teeth, and some who had braces but relapsed and found themselves with a misaligned smile once again because of bad habits, poor oral health, or insufficient retainer wear. Whatever category you fall into, know that your opportunity to change your smile is not lost. You can make a change to your teeth permanently and quickly.
Invisalign: Most adults don't want to draw attention to themselves with obvious braces, so they opt for Invisalign. These clear aligners are thin, snug-fitting, and nearly impossible to see on the teeth. They shift a few teeth at a time until your entire smile is aligned.
Clear braces: The term "clear braces" sometimes refers to Invisalign but it can also be used to describe braces that use clear wires, brackets, and elastics to build a new smile. This hardware is barely visible on the teeth and straightens smiles firmly but subtly.
Ceramic braces: With white ceramic braces you get the design of metal braces mixed with the look of Invisalign. Brackets and wires are tooth-colored, so they blend into your enamel and look natural without sticking out dramatically.
Metal braces: The traditional type of braces is not necessarily the first choice of busy adults. These are the braces that earn people nicknames like "brace face" and stand out quite a bit. They get the job done, but adults who prefer discretion are unlikely to be drawn to this option.

Though every patient is not eligible for every type of orthodontics, there is always an option to change the position of your teeth, whether you have gaps or crooked teeth, an overbite or underbite, an open bite or crossbite. All braces are tweaked to suit your lifestyle.
Reasons to Pursue Braces as an Adult
There are many cosmetic dentistry treatments that can change the appearance of your smile. You might ask yourself why you should bother with braces that take a year or more to complete when you can change your appearance in a few dental appointments. But that's just it – getting braces is about so much more than cosmetic changes.
Some of the most common reasons adults choose to wear braces:
Improve oral health: Do you suffer from frequent tooth decay? Does food always get stuck between the same teeth? Do you have gum recession? Braces can stop these problems by aligning your smile and eliminating the need for other types of dental care.
Eliminate discomfort: TMJ problems and teeth grinding and clenching are linked to bite misalignment. Braces correct not only the crowns of your teeth but what's below the gumline too, and doing so gets rid of pain.
Get a perfect smile: You could get porcelain veneers or teeth whitening in search of a flawless smile, but braces for adults deliver incredible results too, correcting all those imperfections in your smile and delivering perfect teeth.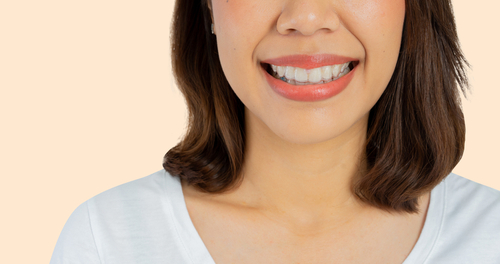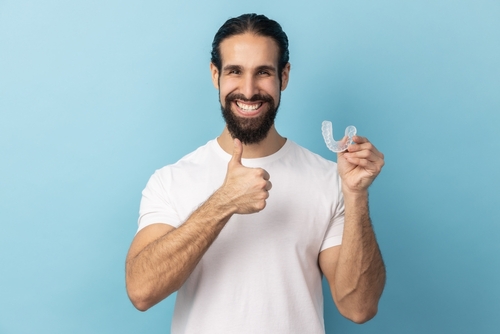 It's Never Too Late to Straighten Your Smile
It doesn't matter how old you are – if you want straight teeth, it's worth it for you to schedule a consultation with Dr. Mariana to discuss your oral health. Orthodontics are a commitment no matter what kind you get but when you make time for braces for adults you will soon enjoy the results – a straight, healthy, strong smile. Contact us at Dr. Mariana Orthodontics to make an appointment.