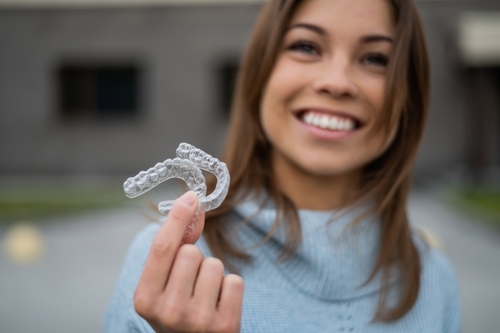 Adults who want straight teeth are often curious about Invisalign treatment. Invisalign for adults is designed as a simple, consistent method of teeth straightening without interrupting a patient's professional or personal life. Dr. Mariana Muguerzaat Mariana Orthodontics in Monroe, WA, will let you know if you're a good candidate for this discreet method of alignment.
Committing to Invisalign for Adults
Adults have plenty of obligations and often find it difficult to prioritize self-care. Invisalign for adults, however, is designed to fit seamlessly into your lifestyle so you can get the straight smile you want without having to tolerate a major drag on your time. Here is what you can expect when it comes to setting a schedule:
6 to 8 weeks: That's how often you will visit your Monroe Invisalign provider for brief checkups and to collect new aligners for the next few months of treatment.
Every 2 weeks: Each set of trays is worn for two weeks at a time, or as indicated by your customized treatment plan. The trays move certain teeth at certain times for consistency and effectiveness.
20 to 22 hours: That's how long Invisalign needs to be on your teeth every day to do the most good. Aligners are only removed for meals, snacks, and cleanings.
12 months: The average Invisalign for adults treatment lasts about six months, but depending on the complexity of your case this timeline could be longer or much shorter.
Benefits of Adult Invisalign
If you want to straighten your teeth as an adult, it doesn't matter if you've never had orthodontics or if you did have them in the past but have relapsed. Invisalign for adults can usually correct every bite and alignment problem a person has, plus there are plenty of benefits that aren't found with any other type of braces:
Discreet: If you want a discreet way to align your smile, Invisalign for adults is it. The thin trays are clear and fit snugly so they are nearly impossible to detect on the teeth.
Convenient: You don't have to worry about how you look or whether you have any food restrictions with Invisalign. There is no visible hardware on your teeth getting in the way of smiling, speaking, or eating.
Comfortable: There are no brackets or wires with Invisalign, which are instead smooth and comfortable to wear, without any chance of ever snagging your gums, lips, or cheeks.
Easy: Cleaning your teeth under Invisalign treatment is easy – simply floss and brush normally. Cleaning the aligners is simple too, brushing or soaking them as instructed by your orthodontist.
The Importance of Straight Teeth
It's easy to talk yourself out of something like Invisalign for adults when you're an established professional or parent – but here's the reality: If you take care of your teeth now, you'll experience fewer problems as you age.
Aligned teeth are healthier teeth that are easier to floss and brush.
You have a lower risk of tooth decay when teeth are straight, as well as a reduced risk of gum disease and other infections.
You are less likely to experience problems with your TMJ or develop teeth grinding and clenching issues.
Straightening your smile can alleviate pain and minimize the chances of gum recession, worn enamel, and damaged dental work.
Get Invisalign for Adults in Monroe, WA
Invisalign for adults is a high-performing orthodontic solution. Find out if you're a good candidate for this treatment by scheduling a consultation with Dr. Mariana at Mariana Orthodontics in Monroe, WA. After an examination is done and digital images are taken, you'll find out what's possible for straightening your smile and getting the strong, healthy, beautiful teeth you've always wanted.
* When compared with clear aligners that are made of off-the-shelf, single-layer .030-inch material
** In a study by Miller et al., with adults measuring pain in the first week of treatment
*** With weekly aligner changes, compared with two-week aligner wear
Invisalign and the Invisalign logo, among others, are trademarks of Align Technology, Inc., and are registered in the U.S. and other countries.