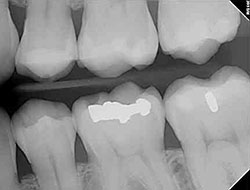 Using the most advanced orthodontic technology possible is just as important as staying up-to-date on the latest treatment techniques. Because our practice is dedicated to providing you with the safest and most convenient treatment options available, we utilize advanced digital X-ray technology in our office.
Digital X-rays provide several advanced imaging options designed to save time, provide clearer dental photos, and expose patients to less radiation than traditional X-ray technology.
By using digital x-rays we are able to diagnose dental problems more quickly and efficiently as we do not need to wait until an x-ray film is developed. Digital x-rays are also very straightforward and allow us to show you the images on-screen in the examination room. We are able to explain any problems and how best to treat them.
If a second dental opinion is required, these images can be emailed to a dental specialist, a process which is much faster and more efficient than having to mail conventional x-ray films.
The orthodontics practice of Mariana Orthodontics in Monroe, Washington is focused on making your orthodontic experience as comfortable as possible. Digital x-rays are incredibly safe, and our dental team is well trained in operating this equipment. At your next appointment, we'll be happy to answer any questions you may have or do not hesitate to reach out to use between your appointments as well.