Invisalign clear aligners are the most discreet, efficient method for straightening your smile. Available for both adults and teens, this orthodontic treatment is available from your certified Invisalign provider at Mariana Orthodontics in Monroe, WA.
Reasons to Choose Invisalign Treatment?
Some orthodontic patients are happy with the idea of wearing conventional metal brackets and wires. Others want an alignment method that is far less noticeable and user-friendly. Here are just some of the reasons qualified individuals choose Invisalign treatment:
Versatile: Invisalign aligners are designed to treat all types of misalignment, including gaps, crowding, overbites, underbites, crossbites, and open bites.
Nearly invisible: Don't want anyone to know that you're going through orthodontic treatment? Clear aligners are thin and nearly invisible and they fit snugly against your teeth so they're barely noticeable.
Comfortable: Traditional brackets and wires of orthodontic treatment are known to cause some discomfort at times. Invisalign's clear aligners, though, are smooth and comfortable to wear, barely brushing against the soft tissues of your mouth so there is no irritation.
Removable: Want a break from your braces sometimes? Invisalign is easily removable and must be taken out for meals and cleanings. This feature makes brushing and flossing easy and eliminates any food restrictions.
State-of-the-art: If you've known anyone who has had Invisalign, you've heard good things, and your Monroe orthodontist can explain the SmartTrack materials and SmartForce features that allow for controlled tooth movement.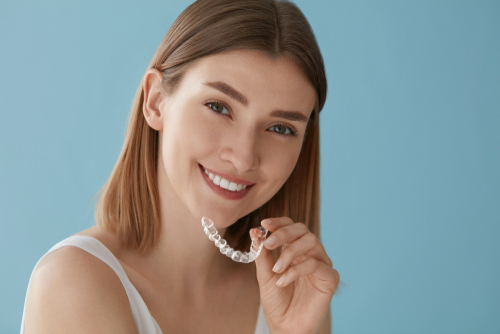 What to Expect from the Invisalign Treatment Process
Every patient's Invisalign treatment is unique to them, but there are similarities for every patient in how the process is carried out.
Consultation: Every orthodontic journey begins with a consultation with your Monroe orthodontist and includes x-rays and a 3D digital scan to create a complete picture of your teeth and bite. Potential patients will discover whether Invisalign or another type of braces are appropriate to correct their misalignment.
Treatment plan: Once you've decided to get Invisalign, a customized treatment plan is developed that shows how and when your teeth will move, how many Invisalign aligners you will need, and how long the entire process is likely to take. You can even get an exciting preview of your newly aligned smile.
Wear time: Most Invisalign treatment takes about one year to complete, but some patients require as little as six months of alignment while others need more than 12 months. Compliance the complexity of your misalignment impact the final timeline.
How Invisalign Works
Invisalign is a carefully honed process that works when patients follow their orthodontist's instructions. Here is what will be expected of you:
Wear the trays for 20 to 22 hours per day.
Remove the clear aligners only to eat, drink, brush, and floss.
Change your trays every two weeks or as instructed by your orthodontist.
See your Monroe orthodontist about every six weeks for a checkup and to collect new aligners.
Once treatment is complete, wear your Vivera retainers to maintain your aligned teeth.
As you wear your Invisalign aligners, your teeth will gradually shift into place and you will notice a change in the appearance of your teeth, a motivating side effect of following Invisalign rules.
Invisalign and the Invisalign logo, among others, are trademarks of Align Technology, Inc., and are registered in the U.S. and other countries.
Get Invisalign from Your Monroe Orthodontist
For busy adults, self-conscious teens, and patients who simply want braces that aren't noticeable, Invisalign is often the right choice. This straightening system doesn't interfere with your lifestyle, job, schooling, social life, or family life.
Find out if Invisalign clear aligners are right for you and your smile. Schedule a consultation at Mariana Orthodontics in Monroe, WA.