Clear Braces
If you could get a straight smile without noticeable metal braces, would you consider it? Most people who need or are interested in orthodontic treatment are eager to learn about the most discreet options available. Metal mouth is not your destiny – both teens and adults can straighten their smile with clear braces from Dr. Mariana Muguerza at Mariana Orthodontics in Monroe, WA. Discover the right kind of braces for you.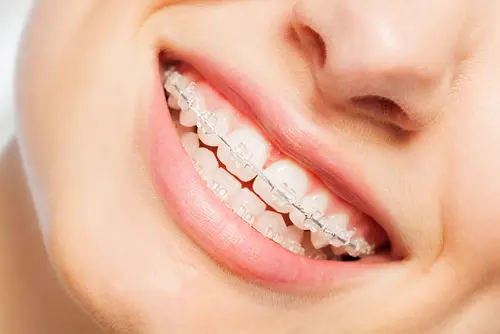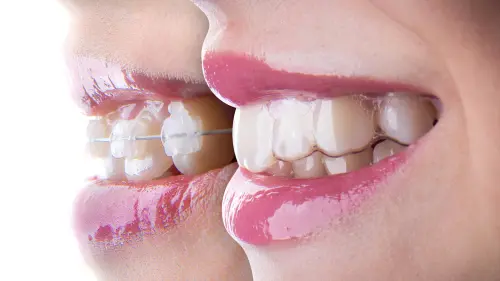 Types of Clear Braces
Modern braces have made orthodontics available to more people than ever before. Anyone who's ever dragged their feet about getting braces and worried about how they might look with obvious brackets and wires on their teeth now has subtle methods available when it comes to addressing misalignment.
Invisalign: Everyone loves Invisalign, particularly busy adults and self-conscious teens. The trays used for Invisalign are super-thin, clear, snug-fitting, customized, and removable. As long as you keep the aligners clean, they will stay clear and nearly impossible to notice. Even better, Invisalign treatment typically takes half the time of other orthodontic options and – since it's nearly invisible – doesn't get in the way of school, work, photos, socializing, or smiling.
Ceramic braces: Call them clear braces, ceramic braces, or tooth-colored braces, this orthodontic option delivers the best features of metal braces without drawing unnecessary attention. These clear braces – both brackets and wires – are made of tooth-colored materials and blend into tooth enamel for a subtle statement. Because they're fixed in place, they're great for addressing complex alignment problems discreetly.
How to Care for Braces
Brushing and flossing teeth when you have braces on them is incredibly important. When you are wearing clear braces, the obligation is even more significant. Without following best practices, it is easy to end up with stained or discolored trays or brackets – and no one wants that invisible perk to disappear.
The easiest way to clean your clear braces properly every day is by developing a routine that you can honor and maintain. Here are some facts to know when comes to cleaning clear braces:
Be meticulous: Ceramic brackets are larger than metal braces and more brittle. They require great attention to detail to get food and plaque out of brackets, wires, and teeth without causing any damage or becoming discolored.
Be dedicated: Invisalign wearers must remove their trays for meals, snacks, and drinks and soak their trays at least once a day. This effort removes any buildup on the aligners, so they remain completely clear, free of stains or cloudiness, and unnoticeable on your teeth.
Be diligent: If you have attachments with Invisalign, they will be tooth-colored, but they'll only remain invisible through the aligners if you clean them diligently and keep them from collecting food or plaque.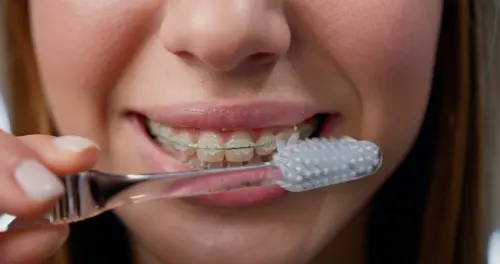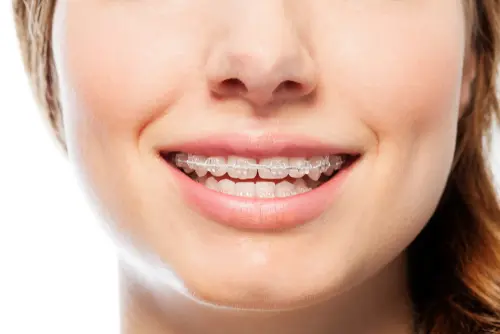 Are Clear Braces Right for You?
Most misalignment problems can be corrected with Invisalign, from open bites to crossbites, overbites to underbites, crowding to gaps. However, not every patient is eligible for every type of orthodontic treatment. Thank goodness for multiple forms of clear braces, both removable and permanent braces.
Modern braces of all styles are less noticeable, smaller, and easier to manage than ever before. Whatever type you're eligible for, there is a way to minimize their visibility. Many people opt for clear braces and many orthodontists recommend them, especially if you're concerned about a ding to your confidence during treatment.
Invest in Clear Braces in Monroe, WA
If you or your tween or teen are ready for an orthodontic consultation, schedule an appointment at Mariana Orthodontics to find out what kind of treatment you qualify for and how clear braces can work for you. Contact us today.